Time and weather conditions
Date: Aug 5th, 1943

Time: 10:00
Weather: Clear
Cloud height: 1400 meters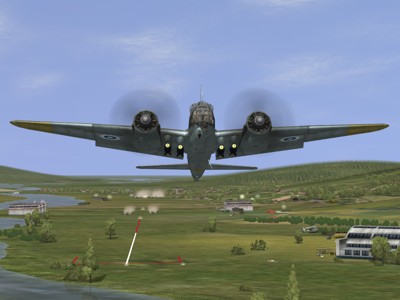 ---
Requires Pe-2 Add-on 4.05m
---
Briefing
Today's targets are a factory and a harbour. I split the flight in two, so that's three planes per target. You will lead the first group and your target is the factory.
It's located 100 meters South-West from two large buildings in the centre of the industrial zone. It's positioned in East-West direction and near the factory there are a little L-shaped building in North-South direction. (See map below, #1)
The factory need to be destroyed completely.

The second group will attack the harbour.

The AA-fire at the target area is quite heavy and most probably you will meet some interceptors so be careful out there and good luck!